Oto krótki wykaz wyrażeń z przyimkiem FOR, które po polsku mają przyimek NA.
PRZYKŁADY
czekać na – wait for
np. Wait for me!
polować na – hunt for
np. She hunts for bargains at car boot sales.
ubezpieczyć coś na – insure something for
np. You should insure the car for at least £ 10 000.
wymienić coś na – (Br.E) change sth for / (Am.E) exchange (sth) for
np. The shoes are too large. Can I change them for a smaller size?
zamówienie na – an order for
np. The company has received an order for 1,500 machines.
duży popyt na – a great demand for
np. There is a huge demand for business software and services.
na śniadanie / na obiad – for breakfast / for dinner
np. We had pasta for dinner.
pójść na spacer – go for a walk
np. Could you take the dog for a walk?
zwołać spotkanie na godzinę 9 – call a meeting for 9 o'clock
np. They called a meeting for 9 o'clock.
ustalić spotkanie na 12. maja – arrange a meeting for 12th May
np. A meeting was arranged for 18th May.
na urodziny – for my birthday
np. My mum bought me a dress for my birthday.
na dobre (na zawsze) – for good
np. I'd like to stay here for good.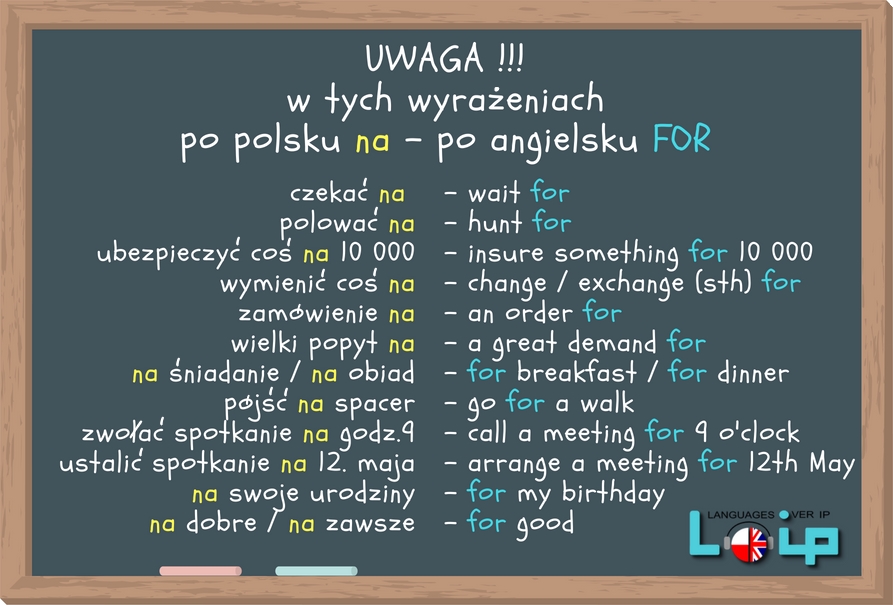 Może poczytasz więcej o przyimkach? Sprawdź wpis przyimek ruchu Z -nie zawsze FROM.